Giant logoballoons with LED – Nice to know
Nice-to-know and need-to-know about giant logoballoons with LED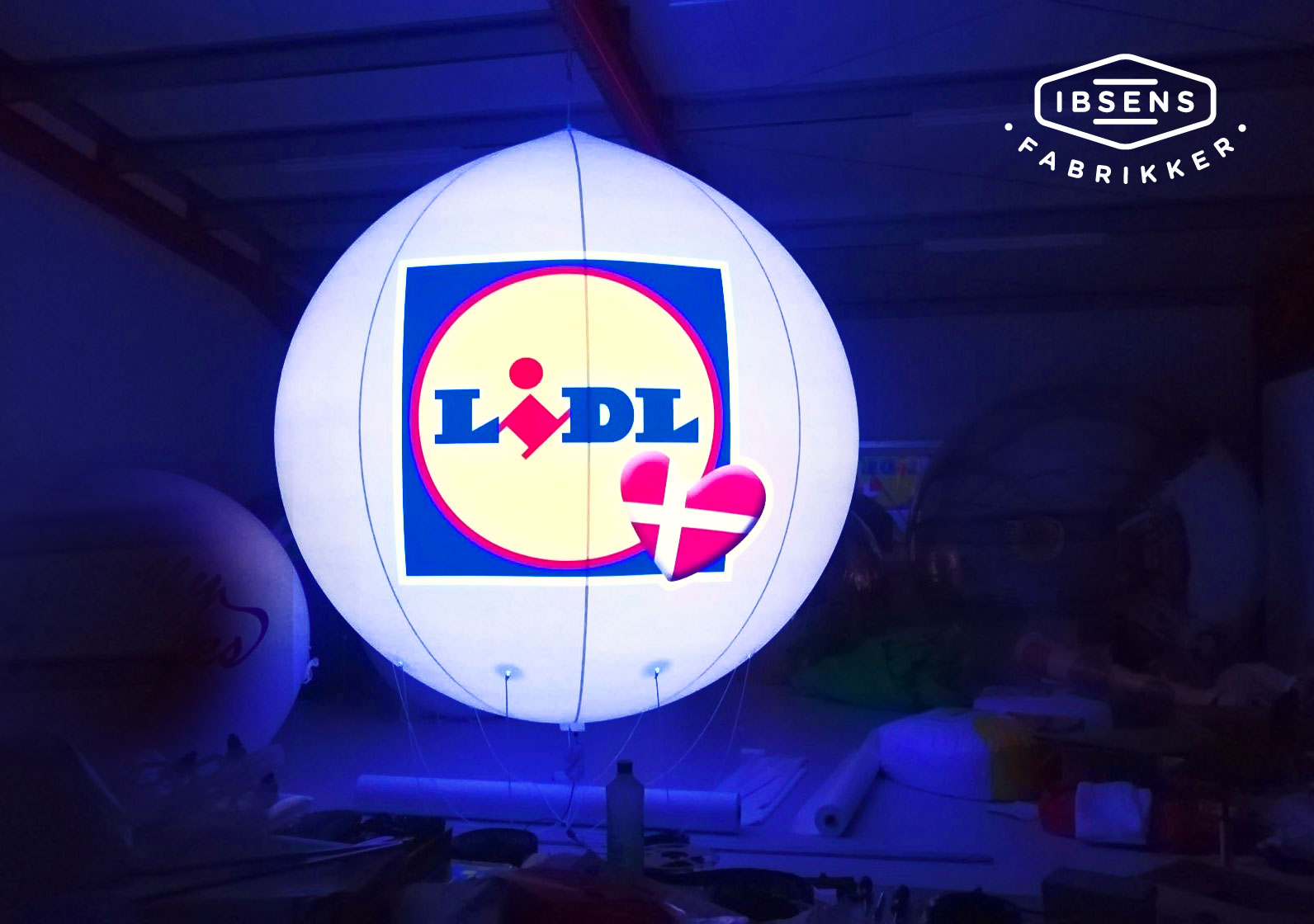 Giant logoballoons with LED lights
Giant logoballoons with LED light display your logo in an elegant and eye-catching maner. They are perfect for exposing your event to the surroundings, such as a new store opening. The balloon catches the attention of your customer from afar and guides them all the way to your location.
In this article you can learn more about nice-to-know and need-to-know about giant logoballoons with LED, to make sure that you are ready to launch your company's next airborne marketing
Balloons with helium
A giant logoballoon with LED is ideal for outdoor use. The balloon is perfect for events taking place in a winter time or late at night. The LIDL balloon in the picture above is used to mark the location of newly opened stores.
When a giant logoballooin is made with built-in LED light, the balloon is heavier than usual. For this reason, we usually recommend that giant logoballoons with LED must have a diameter of at least 3 meters when used outdoor with helium. The balloon is weighed down by the built-in lights and the 25 meter cord down to the ground, and the extra large 3 meter balloon allows a larger content of helium to create enough updraft to compensate for the increased weight.
A giant logoballoon of 3 meters takes approximately 15 m³ of helium to be fully inflated.
Assistance with helium and balloon setup
If you are unsure about the process in filling and launching your helium filled balloon, then we are ready to help you. At Ibsens Fabrikker we have a our own balloon expert, who assists with balloon launches anywhere in Denmark.
Wether you are new or experiences in balloon advertising, using a balloon-professional for your launch can be a great investment.
Different types of LED light
Our giant logoballoons come with the option of different types of LED light. 9 out of 10 of our balloons are made with the standard 6000k "Daylight" LED,  giving off a white light that doesn't interfere with the colors of the balloon. Alternatively 4000K "Warmlight" can be used or even RGB(red green blue) lights with a color switcher can be used.
The built-in light is 12V LED, and all of the needed equipment for the balloon and lights are included in the package, when you order an LED balloon, and all you need is access to a regular danish power outlet.
Fully printed balloons
If you have an entirely unique idea for a giant balloon with LED, we offer the option of a fully-printed balloon. Our largest balloon so far, was a balloon of 8 meters in diameter, printed with NASA's high resolution pictures of the moon surface, made for the danish rockband Nephew.
Indoor decoration with giant balloons
Our giant logoballoons are also suited for indoor decoration. A LED lit balloon can help you create a unique environment at your next even, with your company's logo and message at the center of it. Irma's use of giant logoballoons are a great example of how balloons can be used as a way to send a message to your customers.
Did we spark your interest in our giant balloons?
If we have sparked your interest at this point, and you are considering a giant logoballoon with LED for your next even, then give us a call or send us an e-mail. We are always ready to provide you with a FREE 3D mock-up of your logo balloon design.
Email your questions
to our inbox
Your reply is often ready within 1 working
day. All questions are welcome.
[email protected]