11 facts about blimps and giant balloons with helium
We gathered elleven of the most frequently asked questions from our clients and cooperators about the use of blimps and giant balloons for promotional purposes.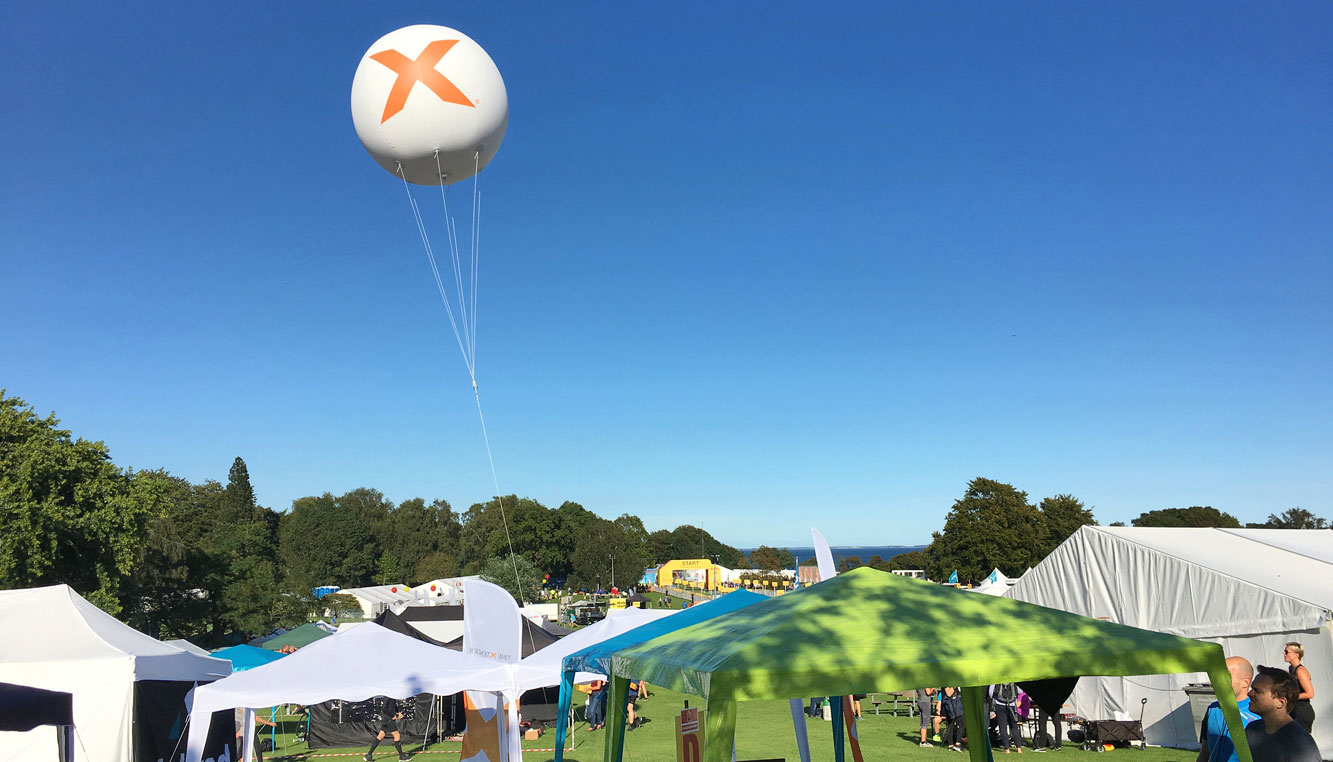 1. Can I launch my helium-filled giant balloon in any weather?
In heavy wind you shouldn't floating blimps and giant balloons with helium. A helium-filled promotional product will fly uncontrollably from side to side. In really heavy wind it will go towards the ground. It's a good idea check the weather reports before launching your blimp or giant balloon.
2. What are the balloons made of?
Let it be clear. Blimps and giant balloons cannot be compared to regular balloons that go bang, when you poke them with a needle. We use to kinds of materials to produce the blimps and balloons. The first one is PVC. We recommend it for commercial balloons at a single event or for use in a shorter period of time. The next one is TPU. This is great for floating commercial through a longer period of time. But both materials can be penetrated by a sharp object, if you aren't careful with the launch and dismantling.
3. Are the products usable several times?
Yes – like anything else. Of course it depends on how you handle the products. Keep the product away from sharp objects like pebbles thorns e.g. We use inflatable helium balloons at our factory in Pandrup, Denmark. Some of them we've used for two to three years. We never leave our balloons outside in the evenings. They stay at our showroom at night. If we did it differently, they would probably be vandalized by now.
4. What if I discover a hole in my product?
If you experience a leak in the product, you can fix it with the gear that comes with the product. Helium-filled commercial effects made in TPU are easier to fix than PVC.
5. How do I connect the line or rope to the ground?
First of all, let's bust a myth. A giant helium balloon can only lift a few hundred grams. It's not like the cartoons, where people fly away by holding helium balloons. But it's still nice to secure a blimp or balloon. Do it with a regular peg, to a tree or a car.
6. For how long can my helium-filled product float?
Your helium-filled commercial items isn't a permanent solution as a regular sign. It won't float in the outdoor for an eternity. Helium shrinks and no balloon is one hundred percent airtight. A helium balloon needs a refill a couple of times a week.
7. Are blimps and giant balloons delivered with helium? 
No. Only approved gas companies like AGA, BP and so on can deliver helium in those amounts. A blimp with a length of 3,5 metres needs about 4 to 5 cubic metres of helium. A round balloon with a diameter of two metres needs about the same. But if you go from two to three metres, the cubic metre count triples.
8. Is it dangerous to use helium?
We recommend being careful when filling up the product. Especially when opening the bottle of helium. Do it carefully and slowly turn op the flow. Helium can be dangerous to inhale, so we recommend not making too many cartoon voices with it.
9. Do we need anything but helium?
No. We deliver floating blimps, balloons and other products with all the gear, you need. Including a 25 metre line and a kit for repairing the surface.
10. How do I keep my helium-filled commercial item, when it isn't being used and filled with helium?
Keep it in the proper bag on a cool and dry spot. Avoid keeping a blimp at temperatures below freezing or at extremely high degrees.
11. But.. What if I'm in doubt?
Of course there's a manual for your inflatable product. But if it doesn't answer your questions, we'd be happy to talk to you!
Get in touch with Ibsens Fabrikker by phone at +45 4062 2927.
Email your questions
to our inbox
Your reply is often ready within 1 working
day. All questions are welcome.
[email protected]