Bamsefabrikken did it again. We made a whole team of handball mascots to contribute to the excitement, when the European Championships in mens handball came to Denmark.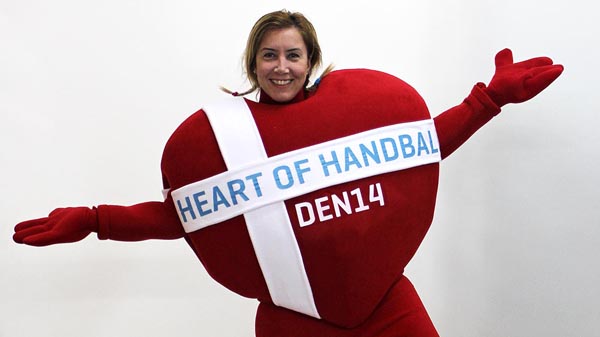 2013 was the year, Denmark held the European Championship in mens handball. It was fantastic to have the championship in our small, handball loving country. And a big sports event needs a great mascot. Once again Ibsens Fabrikker made a handball mascot.
There were four mascots named Hearty for the matches in Herning, Aalborg, Horsens and Copenhagen. In the final weekend all four were gathered for a unique handball experience for every handball fanatic.
"Here at Ibsens Fabrikker we're proud to once again work with the Danish Handball Federation. We develope and produce eyecatching effects and visual eyecatchers, which brand our customers and their brands. And the whole handball worlds eyes are pointed at Denmark, so we're happy to cooperate to this event and the brand surrounding it," said Peter Ibsen, producer of eyecatchers.
Ibsens Fabrikker earlier made the Danish Handball Federation mascots  Trille & Trolle.  The trolls are the leading mascots in the Danish handball community, but for the European Championships Hearty were the main mascot.
"It is natural to talk to Ibsens Fabrikker about mascots. We have great experiences with dem as cooperators. For this all to happen the mascots had to be movable and express the mood in the Heart of Handball-slogan – and the result was just as we wished," said Danish Handball Federation CEO, Henrik M. Jacobsen.