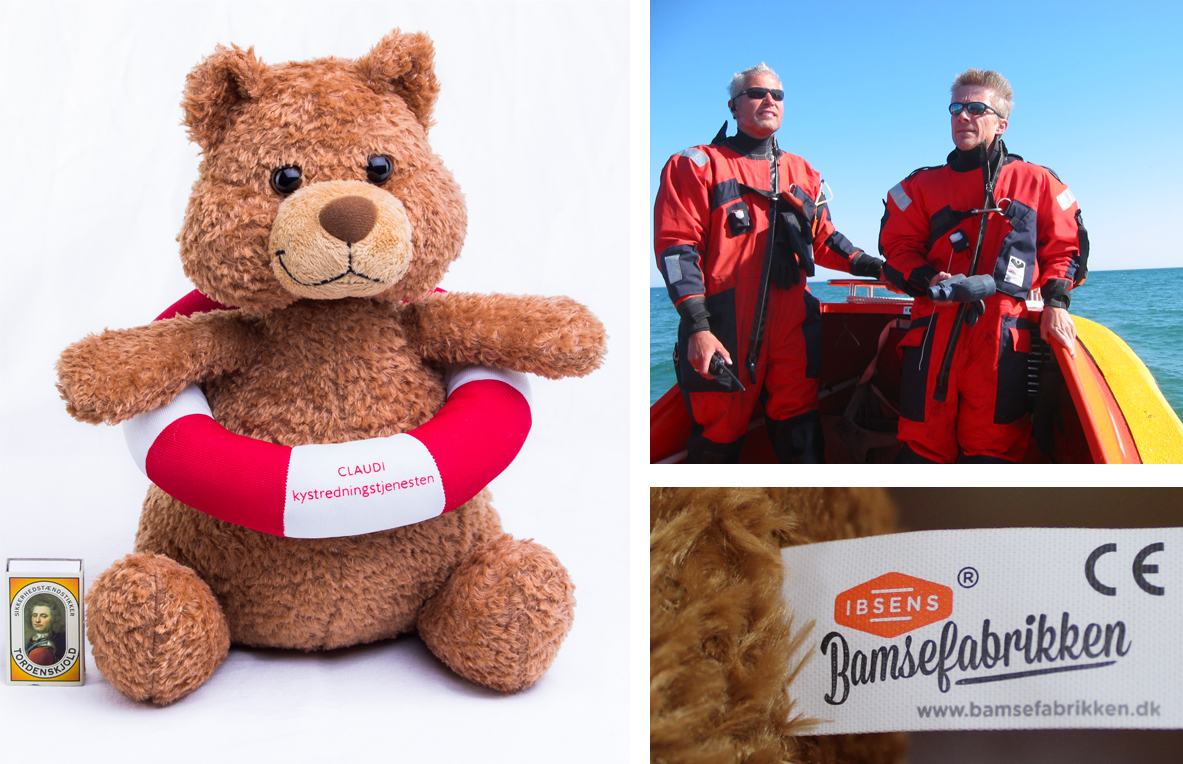 Here at Bamsefabrikken we're crazy about teddybears. We are specialists in production of advertisement teddies and plush toys for promotion and advertising.
But when the Danish Maritime Safety Administration came to us with a request to develope a teddy mascot, we really listened. The teddy were going to be a part of every boat in their 'fleet'.
Coast rescuers at Bamsefabrikken
Two coast rescuers and the CEO of the Danish Maritime Safety Administration visited Bamsefabrikken.
Rescuer Allan Jellesen told us about the importance of calming and handling a child, which have had a traumatic experience on sea.
It is absolutely nessercary to calm a child in a rescue mission, and CLAUDI the mascot plays a big part of that now.
Defilibrator, check. Teddybears, check
CLAUDI is going to be in every rescue vehicle. CLAUDI is going to take care of the children in a traumatic rescue mission.
A memory to remember*
When a child gets an "assignment" in a chaotic situation, where panic and anxiety is involved, it's important to take away the focus from the scary episode and let the child relax and have a good memory with the coast rescuers. Bamsefabrikken developed a cute and soft teddy with big, brown eyes. A teddy in good quality, which ensures that the child will think back at the episode with a nice, little thing to remember. And that little thing is CLAUDI.
It is a really nice thought and a good idea from the Danish Maritime Safety Administration, and Bamsefabrikken are proud to be the ones, who designs and produces the cute teddies.
Read more about the production of teddies and plush toys.